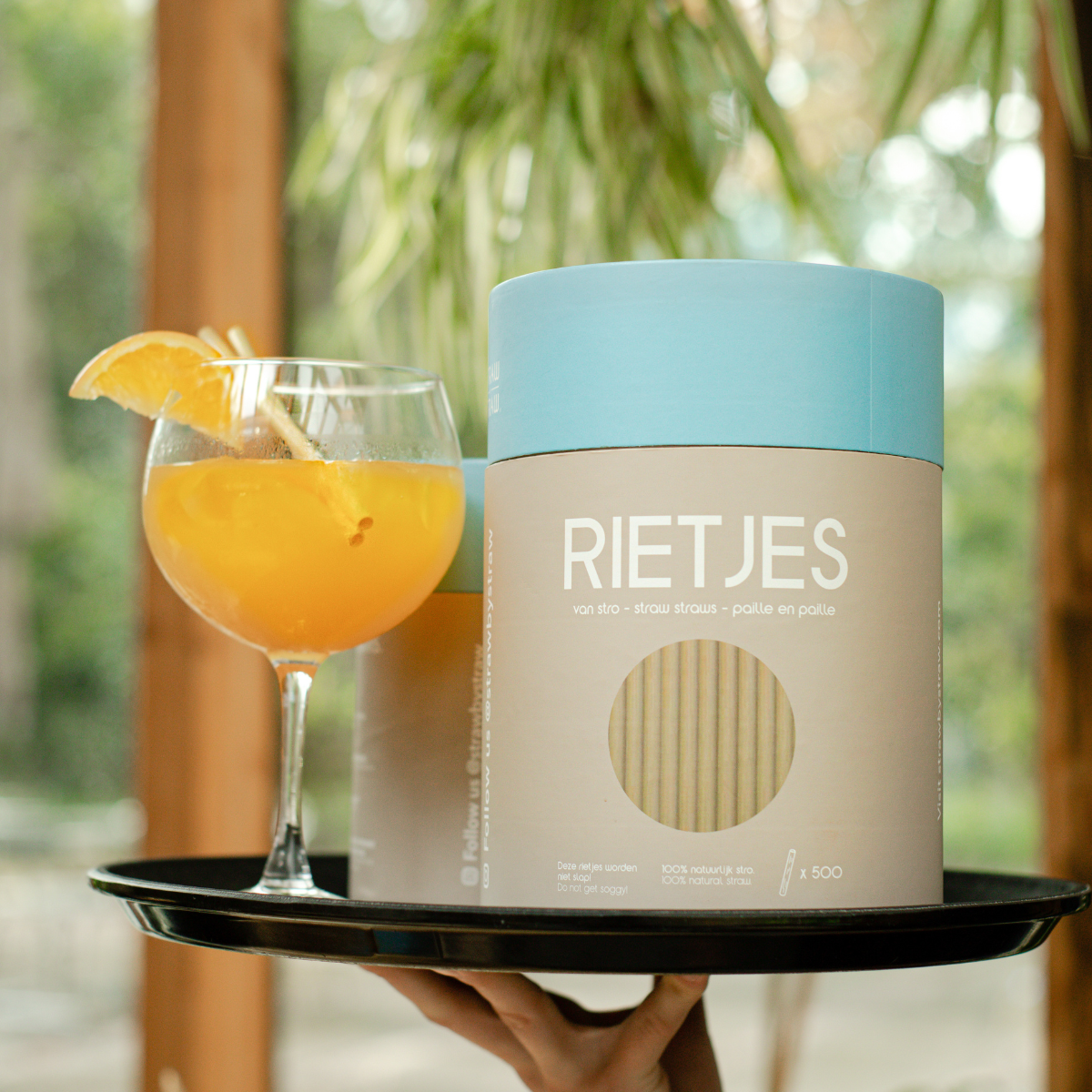 What are wheat straws?
We use grain stalks and turn them into usable products: drinking straws! After every harvest around the world, stems of cereal plants are left behind as agricultural waste. To make our natural straw straws, these stems are collected, cut by hand, and sterilised – ready to be served with your cocktails and juices!
buy wheat straws
Frequently Asked Questions about eco-friendly Wheat Straws
Using wheat straws
Are eco-friendly wheat straws gluten-free?

Yes wheat straws are gluten-free!
Gluten is found in the seeds of the wheat plant. We only use the stem. After harvest, wheat stalks are sterilized and dried and we can make sure that it does not contain gluten.

This has been tested together with the Nederlandse Coeliaki Vereniging (Dutch Coeliaki Association). The lab results show there are no gluten in wheat straws.
Are wheat straws also suitable for hot drinks?

Yes, straw straws can be used in both cold and hot drinks.
Practical questions
What type of drinks are wheat straws suitable for?

Wheat straws have a diameter of ⌀3- 6 mm and are therefore suitable for drinks such as:

tap water, lemonades, sodas, soft drinks , gin tonics, and cocktails.

We would not recommend wheat for boba tea or milkshakes.

Reed straws have a bigger diameter which makes them suitable for all of the above, plus milkshakes and smoothies.
Can I choose a specific diameter?

Wheat straws are a natural product. Each box contains straws with mixed diameters. It is unfortunately not possible to deliver one specific diameter. They are packed per 3-6 mm in a box.
In which bin do I dispose wheat straws?

Our wheat straws and reed straws are literally the stems of plants so you can dispose them in the compost bin, or GFT. They're 100% natural, no coating or anything else is added.
Sustainability
What happens if wheat straws end up in the environment?

Our question to you would be: What happens if a plant ends up in the environment? These straws are literally just the stems of plants and are not harmful for the environment and animals.
How long does it take before the wheat straws biodegrade? 

hat depends on environmental factors: wind, water, temperature and ground. As they are fully biodegradable and compostable without the need of industrial installations, they won't harm the nature but instead serve as nutrients.
Are bleaching agents or other cleaning angents used during the production process of wheat straws?

No! Our straws are 100% pure nature. No chemicals or bleaching agents are​ added.
Wheat straws are a product made by the nature. We just cut and sterilize them...
1. Harvest time
After every harvest stems of cereal plants are left behind as agricultural waste.
2. Cut stems
The grain stalks are cut into your favorite sizes.
3. Sterilization
The straws are cleaned with sterilising methods using hot water. No chemicals or bleach involved.
4 Serve it in your drinks
The straws need to dry for a while and tadaaa! You can use them in your drinks.
Order your wheat straws here: